Information about Reopening and Holidaying with us during Summer 2020
Firstly, many thanks for all your lovely e-mails and messages on social media telling us you are desperate to come back for a relaxing break. We are equally missing you all…it just isn't the same without that lovely buzz on a Friday night from newly pitched tents, excited kids and the first cold beer cracked open! We are now in a position to tell you about how Holme Valley will be opening up to our guests again.
We are now taking bookings from Saturday 4th July. As with everything it will depend on the government allowing this to happen and the country meeting the '5 targets' it set out. When we do open, things will be very different to ensure the safety of you and our staff. You will still be able to relax and enjoy our fishing lake, woodland, fields and river with even more space as we are reducing the number of guests we are allowing on the park. The main differences affecting visitors are
1) Our toilet & shower blocks will not be available for general use.
2) We cannot accept bookings from mixed households in Tents / Caravans / Cabins /        Motorhomes.
3) You can only come and meet with one other household (no groups bigger than 2) 
(see below for details). We have been working hard over the last few weeks planning procedures to allow us to welcome all our customers back to an environment in which you will feel comfortable. Our primary aim is to provide a safe, socially distanced break for you and your family.
If you or anyone in your household develop COVID-19 related symptoms or have been told to isolate through the Track and Trace system, it is essential you DO NOT come to the park. Instead, we are offering to transfer your stay to a future date or issue a full refund if preferred.
Bookings from 4th of July 2020
There will be a minimum 2-night stay at weekends and during the school summer holidays (17th July to 5th September) with the exception of Saturday 4th July. We are sorry, we just can't deep clean everything and turn it all around on a single night stay during these times, also we are trying to limit the amount of contact between staff and customers. We are asking for the full cost of your stay to be paid on booking. If you have to cancel in advance, we will refund at least 50%, however if you cannot come for reasons related to coronavirus, for example you develop COVID-19 symptoms, we will issue a full refund. If, due to a change to government guidelines, we cannot reopen on 4th July, we will be happy to transfer your booking and full payment to a future date. Finally, we cannot currently accept bookings from groups of 3 or more units. If your family/household is split between 2 tents, please email us to book, providing us with a mobile number so we can contact you. Please call or email us if you need more clarification on group bookings.
Caravans, Motorhomes, Campervans with their own toilet and shower facilities
Caravans, motorhomes and campervans who book a hardstanding pitch must have working facilities in them to be able to pitch on the hardstanding. They will not be able to use any of our facilities (toilet, shower or washing up area) or have the use of a port-a-loo. The Elsan is available for the disposal of chemical toilet waste. Motorhomes and campervans can book an electrical hook-up pitch on our bottom field in addition to the hardstanding pitches. Prices for these pitches are as normal.
We're sorry, but we are unable to accommodate caravans without working facilities. Once we can open our toilet and show block as normal, you will be very welcome to stay.
Caravans without facilities
We are sorry you cannot stay with us at the moment. Once we can open our toilet and shower blocks as normal, you will be very welcome.
Tents, Motorhomes, Campervans without their own toilet and shower facilities
If you do not have a toilet and/or shower and need to hire our facilities, you will need to book a grass pitch in one of the fields.
There are 3 options for both electric hook-up pitches and non-electric pitches on our booking system for you to choose from. All of them are grass pitches in the fields.
1. PITCH WITH FACILITIES (Toilet & Shower).This pitch has an additional cost of £12 per night to normal prices, this is capped at £48 for stays up to a week long. This is your own private port-a-loo (sharing with anyone else on the park is strictly forbidden) for the duration of your stay and a shower slot for you and your family to shower each morning of your stay. Each shower cubicle in the amenities block has a changing area and shower area. The showers will be thoroughly cleaned between slots. There is no access to the toilets or sinks these will be shut and you will not be allowed to use the hair dryers.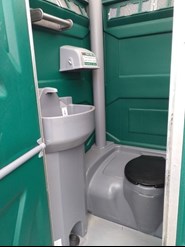 2. PITCH ONLY (use your own facilities). If you have your own toilet and shower or can manage without a shower you can book this option. These pitches are at the normal price. You cannot access any of our amenities blocks.                                                                                                                                    
3. PITCH WITH SHOWER ONLY (no toilet).We will be able to cater for a small number of pitches whereby, if you can bring your own camping toilet, we can offer your family a daily morning shower slot. Please see the details in option 1. This option has an additional charge of £6 per night.
Cabins
o Willow Glamping Cabin has its own facilities and can be booked as normal.
o Guests in each of the Camping Cabins will have the use of either a family bathroom or the disabled wet room, there is an additional charge of £12 per night for this. Those staying for a longer break will have this additional charge capped at £48 per week.
o Please bring your own cutlery, plates, cups and pans for cooking (we normally supply these) as well as your bedding. A stove top kettle will be supplied as normal.
o No groups of friends in one cabin, people in the cabin must be from the same household.
o 2-night minimum (normal policy for high season anyway) except for the night of Saturday 4th
New additional social distancing dos and don'ts everyone will be asked to follow
Holidaymakers are very welcome to:-
o  enjoy the caravan/cabin/tent and the area of their pitch
o  walk freely on the park observing 2m social distance at all times from fellow caravan/ tent owners and the park team
o  bring soap, hand gel, gloves, toilet roll, disinfectant, hand sanitiser – just to be on the safe side.
o  talk to any of our park team but always observe 2m social distance.
o  Use our shop to purchase anything you may have forgotten, an ice-cream or a bottle of wine.
o  Paddle in the river, fish in the pond, explore our woodland or head out on any on one of the beautiful walks we have around us.
Please do not:-
o  Meet, gather or book with friends in a social group. No groups of more than 2 units or 6 people.Invite or entertain visitors.
o  Visit us in any group outside of your own home. All units must only have people from one household, no sharing cabins, tents, motorhomes, etc.
o  Allow children to roam unsupervised around the park so that they do not, albeit inadvertently, break the 2m rule.
o  Use any of the play areas as these will be closed.
We hope to welcome you soon!