WE ARE SORRY, BUT FOR 2021, WE CANNOT HOST CHILDREN'S PARTIES. WE HOPE TO BEGIN AGAIN IN 2022.
Children should be given every opportunity to enjoy the outdoors, which is why we host Down to Earth Children's Outdoor Parties near Holmfirth. Our park, with the woodland, meadows and adventure play area provides a perfect base for children's outdoor parties.
We offer a wide range of activities and themes and we aim to be as flexible as possible so as provide the birthday boy or girl with the best outdoor birthday party and to suit the parents' budget! If it's just space you need we can leave you alone to create your own children's outdoor party or if you really are short for time we can lead the party, provide the invitations, food, party bags and even the cake. Down to Earth Children's Outdoor Parties is exactly that - back to basics, outdoor fun with a price tag which should reflect what you get!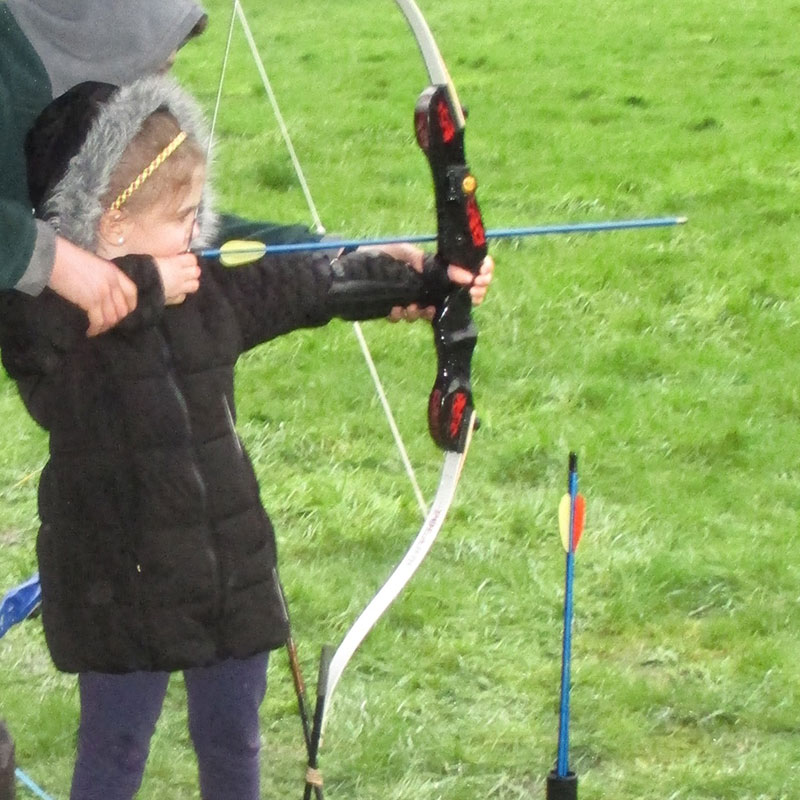 What can Down to Earth Childrens Outdoor Parties offer me?
All parties include 3 - 3.5 hours use of our facilities within the Back to Basics Package.
Back to Basics Package
This includes 3 hours use of the woodland, field space, party room* with basic kitchen facilities, play area and toilet facilities. We can also provide Nature Detective woodland discovery booklets (2 different levels.) After that you are left to your own adventures! Please see prices below.
Archery
Budding Robin Hoods or Maid Marions have 1 hour archery tuition with fun balloon shoots, games, competitions, trophies and certificates for each child. Geoff is a qualified archery instructor who runs Have-a-Go Archery sessions on the park every week during spring, summer and autumn. Geoff's archery sessions have proved to be very popular with children and adults.
Den Building
Work in teams to gather branches, leaves and any other handy materials off the woodland floor to build a unique den big enough for you and your team mates to shelter under and possibly enjoy your party food! Don't forget to finish it off with your team flags. Personalised certificates provided to all den builders. 
Circus Skills
A fun packed participation session, where everyone regardless of age or ability can have a go at Spinning plates, Diabolo, Stilts, Pogos, Unicycles, Poi, Balance boards, Balloon modelling, Giant bubbles and a load of other stuff. Sessions can be structured or just free to play.
Treasure Hunt
Use your skills and knowledge to solve the clues and find 'Ye old long lost treasure' of Captain Hagg!
Arts and Crafts
Get your creativity skills working and have a go at a number of different tasks.... Paint a picture, create a wood mobile, try glass painting or get sticking...fun for all ages!
Outdoor Sports and Games
Especially for the competitive types! Come and try a range of fun relays, sports (volleyball, unihoc, etc) and crazy games set in knockout, World Cup or Round Robin format or...just play for fun!
Fairandfunky SCRAPtastic
Creative pair Helen and Sophie from fairandfunky are teaming up with Down to Earth Children's Parties and offering seriously SCRAPtastic fun! Get creative with the outdoors, nature and environment in mind and transform everyday scrap into birdfeeders, animal masks, bee and butterfly mobiles, animal yoghurt pot puppets...you choose! Why not make it an adventurous 2 hour party with a nature trail in the woods and party games. Any of the choices could be tied into a theme, perhaps a pirate or princess party. Whatever the choice all party goers would create their own SCRAPtastic individual artworks to take away.
Party Choices

Theme

Length of Activity

Price

Maximum No. of Children

Back to Basics

N/A

£50

Approx 20

Archery

1 hour

£130

£130 (extra kids £5 each)

6 (6 & 7 year olds)

12 (8+ year olds)

Den Building

1 hour

£130

20

Circus Skills

1 hour

2 hours

£130

£170

Approx 20

Treasure Hunt

1 hour

2 hours

£130

£170

Approx 20

Arts & Crafts

1 hour

2 hours

£130

£170

15

Outdoor Sports & Games

1 hour

2 hours

£130

£170

Approx 20

Night Circus

1 hour

2 hours

£130

£170

Approx 20

fairandfunky SCRAPtastic

1 hour

2 hours

£145 (£220 with fairandfunky party bag)

£195 (£270 with fairandfunky party bag)

15

 
 
 
Extra Bits and Bobs...
Party food can be supplied by Alexander's Sandwiches in Brockholes who can prepare pretty much anything you want! We can organise this and collect it for you. £5 + £3-£5 per child
Party Bags can be supplied by Imagine Toys according to age, gender and style of bag. £5 + £1.50 - £2 per bag.
Birthday Cakes can be supplied by Alexander's Sandwiches in Brockholes.We can organise and collect. Price to be agreed when ordering.
Invitations can be designed according to the theme of your party and emailed ready for you to print, add names and hand out. Free of Charge
Party times and timings
As Down to Earth Children's Parties run from the campsite we are restricted to Saturday mornings and Sunday afternoons at the weekends but can do after school hours during the week.
A typical party with a 1 or 2 hour activity would look something like this...
Party with 1 hour activity
30 minutes set up prior to party (to decorate party room, etc.)

15 minutes to play in the play area.

1 hour of main activity

45 minutes party food /games /play area time (games to be arranged by hosts)

30 minutes tidy up.
Party with 2 hour activity
30 minutes set up prior to party (to decorate party room, etc.)

2 hours of main activity

30 minutes party food /games /play area time (games to be arranged by hosts)

30 minutes tidy up.
Useful things to know about...
*Our party room is only small and can seat up to 20 children if you are eating indoors. We do have picnic benches outside which can seat more or perhaps consider picnic blanket too! In the party room there is a basic kitchen with sink, fridge, microwave, kettle with tea, coffee, sugar, milk and mugs and also a separate toilet. Plenty more toilets downstairs in the amenities block.
We don't have a car park on the campsite therefore we would have to restrict parking to 8 cars maximum per party. If you can car share or organise a drop off that would really help us out.
Please come and see us so that we can plan your children's outdoor party with you!
Email: downtoearth@holmevalleycamping.com  Tel. 01484 665819